Julia Anderson's URAP experience: Curating the AERA Energy collection – butvar, hot glue, fluffy stuff and "ethocradles"!
When I first entered the UCMP Paleontology Preparation Lab, where I would be working, a cold rush of air and the smell of dirt greeted me. This may sound unpleasant, but for me, as a future paleontologist, this rattled my heart strings! I couldn't wait to get started on my Undergraduate Research Apprenticeship with Diane Erwin, working on the Fossil Insect PEN Project.
As Diane and I hauled metal drawers and wooden trays full of specimens into the prep lab, I took glances at what I would be working with. These specimens, which I would be curating this semester, that is preparing, cataloging, labeling and housing them for future study and imaging, looked like hunks of dirt. However, when I shined a flashlight onto the shiny soil, suddenly the wings of dragonflies and the delicate veins of an oak leaf showed themselves to me, emerging from the thousands of years-old sediment.
These fossils were collected from a Holocene oil seep site in Oil Canyon located on land owned by the AERA Energy oil company near Coalinga, California. The oily sandy rock matrix was incredibly friable, breaking apart in my hands. Something had to be done to consolidate the specimens in order for them not to turn into piles of sand in the collections!
However, before I could start my work in the prep lab, I had to take a series of online safety trainings – the Environmental Health and Safety (EH&S) 101 laboratory safety fundamentals course, the Hazardous Waste Program, the Hazardous Materials Spill Response, and the Laboratory Hazards Assessment Tool followed by an in-lab safety orientation. This certification ensured that I would not only be lab safety savvy but soon the proud owner of two fitted blue flame resistant university-issued lab coats, a pair of safety glasses and goggles. Sporting my new PPE (personal protective equipment), I set my music playing in the background and began preparing the out-of-the-field fossils. I used a very thin liquid adhesive made from a mixture of powdered polyvinyl butyral resin (Butvar®) and ethyl alcohol, a standard consolidant used for all types of fossils. Using a disposable plastic pipette, I delicately squirted some on the insect and plant impressions, with heavier applications to the matrix surrounding each specimen to solidify the sandy matrix. Sometimes I would apply the adhesive three or four times to fully stabilize the fossil.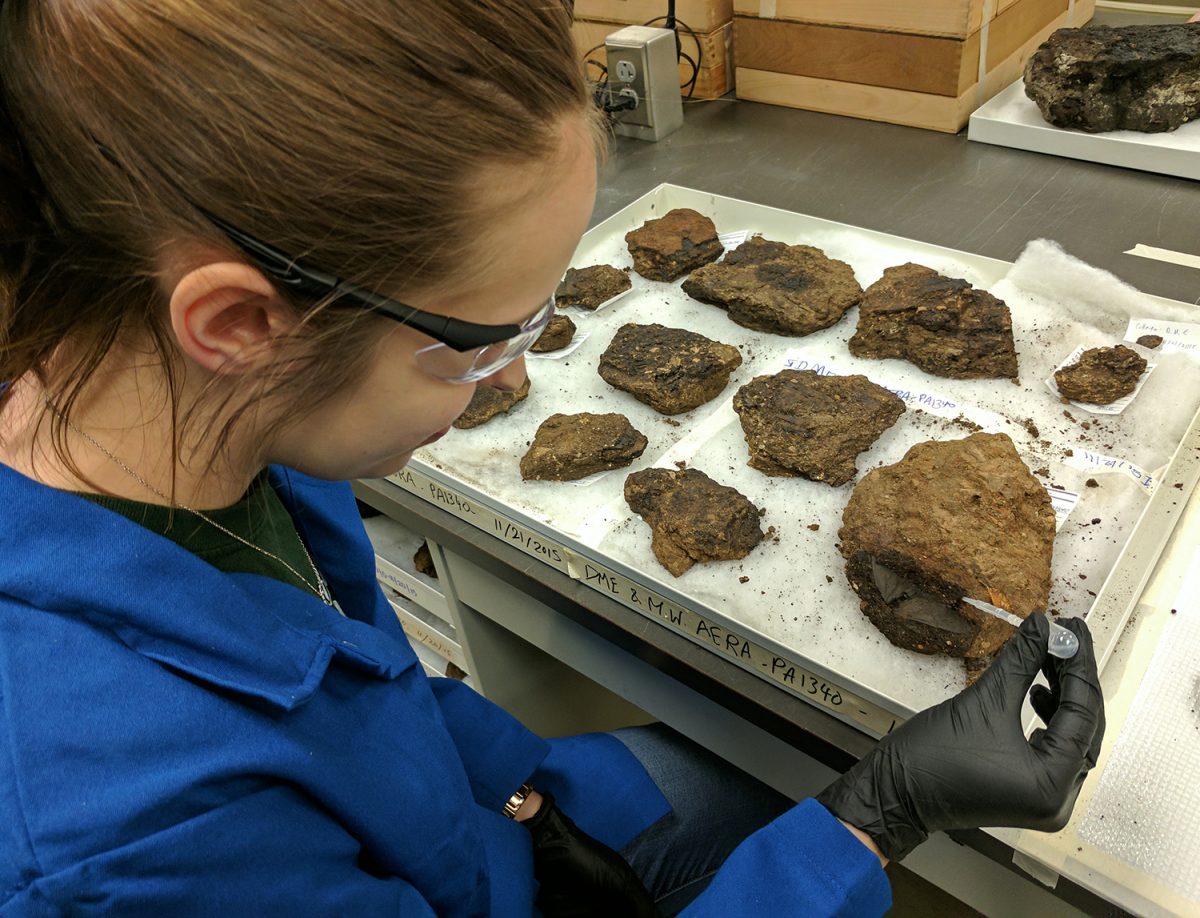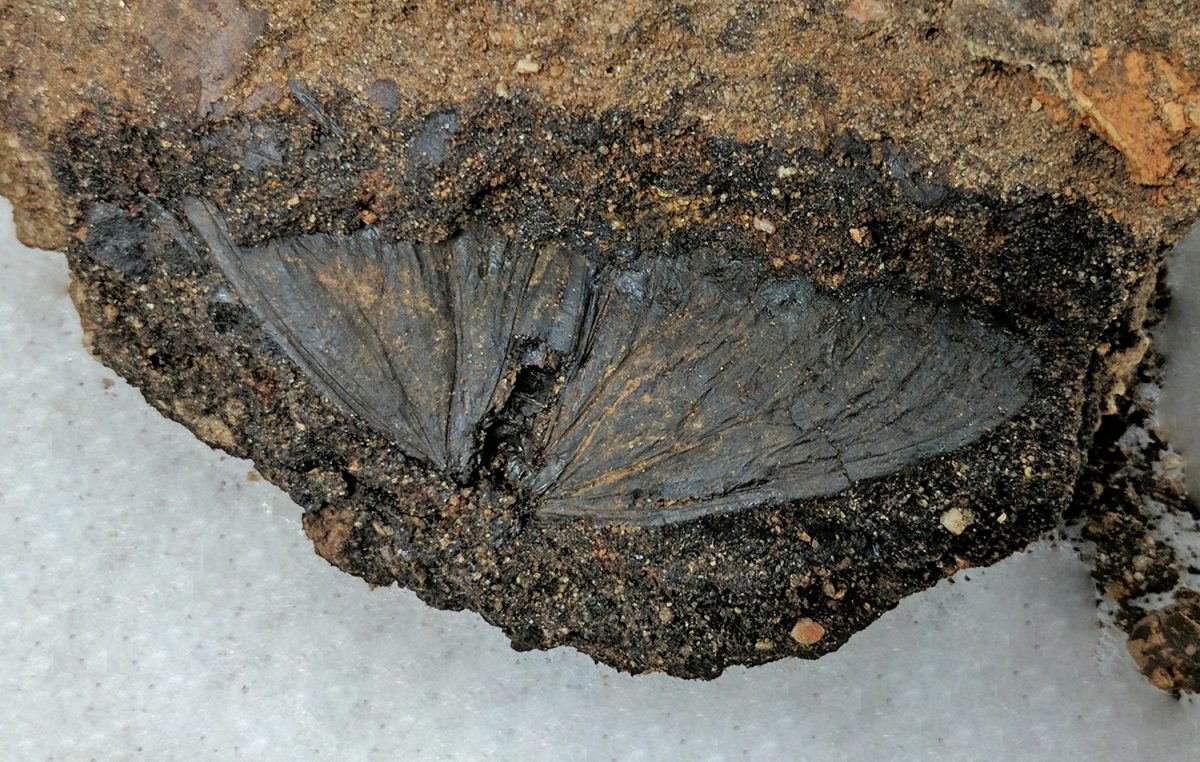 Our quest for the perfect "cradle" for these specimens went through five stages. The first four featured a lot of masking tape and looked…well… let's just say "interesting." Finally, using Diane's extraordinary origami skills and my ridiculously long time experience with a hot glue gun, we fashioned the "ethocradle," the perfect hybrid of our previous designs. Throughout the next couple of months, I hand measured, cut out, and hot glued ethocradles for the fossils that needed them.
Then came the cataloging. I spent about two weeks meticulously going through each specimen and updating the UCMP Excel spreadsheet bulk upload form with new information. I learned a lot about insect and plant taxonomy, which was more than rewarding. The collection's insect orders included Coleoptera (beetles), Orthoptera (grasshoppers), Odonata (dragonflies and damselflies), and Lepidoptera (butterflies and moths). The insects were beautifully preserved and I often had to take moments to admire them. As far as plants, I identified two classes; Magnoliopsida (including oak) and Liliopsida. A vast majority of the plant material was oak. To access the AERA specimen records go to the UCMP online database select Collection equals: Invertebrates and Loc ID Num field equals PA1340.
Once the official new labels were printed out it was time to celebrate! I gathered the two hundred or so field tags into my hands and threw them into the air above my head. My apprenticeship was a success! I learned so much this past semester about how fossils are prepped and housed in the UCMP's vast collections. I achieved my goals of gaining experience working with fossils, while also having so much fun! This undergraduate research apprenticeship experience only solidified my desire to become a paleontologist and make my passion my career.
To learn more about the AERA Oil Canyon site and its significance here is a recent publication in the 2017 Desert Symposium proceedings volume entitled, "Flora and fauna of the Holocene Oil Canyon oil-sands from the poorly understood San Joaquin Desert Biozone," pgs. 308-314, by Ryan O'Dell (BLM), UCMP staff and associates Diane M. Erwin, Patricia Holroyd, Brian Rankin, and Marwa El-Faramawi.